A Consensus Handbook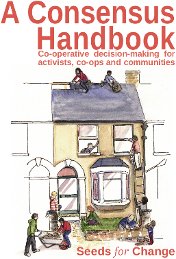 Co-operative decision-making for activists, co-ops and communities
This comprehensive book explains the spirit and philosophy of co-operative decision making as well as providing practical guidance on how to facilitate a consensus process. It looks at common situations and explain the skills and tools your group can use to ease the path to a decision. The book covers techniques for decision-making in small and large groups as well as virtual meetings.
We've also included material on some of the pitfalls and problems you and your group may face - and have provided some suggestions of how to deal with them!
Whether you're new to consensus or are experienced; whether you think it's the best way to make decisions or are struggling to make it work: A Consensus Handbook is for you.
Available as Ebook and Paperback
Ebook
PDF
Low Resolution version, 10MB. Free download

kindle
(ASIN: B01G5C91D8)
from Amazon:

epub
(ISBN: 978-0957587113)
from:

Paperback
228pp, A5, illustrated, ISBN: 978-0957587106
1st edition 2013, reprint 2016
Paperback: £4.50 plus £1.50 postage (UK) for direct orders from us. (RRP £7.00)
Order online with paypal
£6.00 including postage
Order by cheque or postal order
Make cheques and postal orders payable to Seeds for Change Lancaster Co-operative) and post to:

Seeds for Change Lancaster Co-operative
Storey Institute
Meeting House Lane
Lancaster LA1 1TH
Price of books ordered directly from Seeds for Change, for posting within the UK

1 copy
£4.50 + £1.50 postage = £6.00
2 copies
£9.00 + £2.85 postage = £11.85
3 copies
£13.50 + £2.85 postage = £16.35
For bulk purchases and orders from outside the UK please contact us.
Also available in Russian
Translated by Radical Theory and Practice and available for download here

Настольная книга по консенсусy.